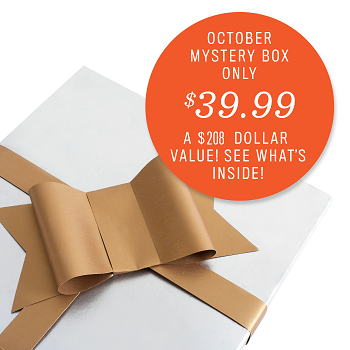 If you're a Cricut user, have you ever tried one of their Mystery Boxes?  Each month, they put some things together for a great deal, and they give you hints about what kinds of things they put in the box, but you really don't know exactly what will be in there until it arrives on your doorstep.
I ordered one last month and was thrilled with the fun stuff inside.  Now that I see that the box for October has FOUR cartridges in it, I'm pretty tempted to do it again.
Here's a bit of what Cricut will tell us is inside Cricut's October Mystery Box …
The contents are valued at a whopping $208, but you'll be able to purchase it for only $39.99!
It includes 4 cartridges
And that's all they're sharing because they don't want to spoil the other surprises contained in this October Mystery Box! (Yeah, that means there's more!)
Purchase it for yourself and solve the mystery of what's inside! But hurry, they only make and sell a limited number of Mystery Boxes each month.
~ Deb
(**This post contains affiliate links and I will be compensated if you make a purchase after clicking through my links.)